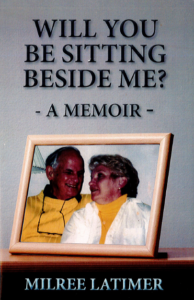 Will You Be Sitting Beside Me, my memoir, was a story written in the midst of grief upon the death of my then-husband and a chronicle of my way back into life on my own.
A retrospective on the unexpected in life, a recollection of those times when as Mary Oliver   writes only "the beauty and the mystery re-dignify the worst stung heart."1
Ten years ago, writing my story became my road back, and an acknowledgement of the inner spirit we all carry to summon up life.
1. Mary Oliver, Upstream (Penguin Press, New York, 2016), 14-15.
Excerpt from the Prologue: A Red Bag
Do you remember a certain day?
or evening rather, spring evening long ago,
we talked of death, and love, and time, and truth
and said such wise things, things that amused us so,
how foolish we were, who thought ourselves so wise!
And then we laugh, with shadows in our eyes.
— Conrad Aiken, (1917) Nocturne of Remembered Spring
May 2007
It was a simple, red carry-on bag. Strong, sturdy, big enough to hold a small urn.
Doug's ashes. My husband.
Security personnel at Pearson Airport on that Wednesday morning looked especially bored. A morning in early May. Lines at security were short, people moved through like widgets on an assembly line. When I approached the security, I lifted the red bag carefully, set it down gently on the cold steel, from there it floated onto the black conveyor belt. The uniformed inspector stood back watching. He was a young man, maybe new to the job. As the bag glided toward him, I blurted:
"You need to know what's in there." His boredom lifted. He looked alert.
"Yes?" he queried.
"I'm taking my husband's ashes to Halifax… to be committed to the ocean." I felt as though I needed to tell him my story. Naming my journey helped me keep moving. Kept me from grabbing the bag, grabbing him and taking him back home.
"This?" He placed his hand on the bag, almost as if he were blessing it. "Your husband's ashes?"
Was his face softening? Were his eyes misting? That's what I remember. But of course, I was living a story, I was creating the characters. None of this could be real.
"Please, ma'am. Go on through." Did he speak gently? I don't know. I only imagine.
On the other side of the metal detector I walked to pick up my red bag, my shoes and jacket. All my belongings had gone through the X-ray with no bells, no sirens, and no police appearing. Doug would have been disappointed. I seized the handle of the bag to heave it as gently as I could from the cold, steel table.
"Excuse me ma'am, I need to look in your bag." This security agent was older, looking a bit tired, possibly about to go off his shift. I unzipped the red bag and started to life the green velvet bag containing the urn.
"No, no, ma'am that won't be necessary. Please, go ahead." As he spoke, he lifted the red bag from the table, placed it carefully on the floor, pulled up the handle and wheeled it over to me.
"I'm so sorry." This time I did not imagine his words, I remember how quietly he spoke to me, I remember feeling calm and steady, like a ship approaching port.
"Breathe," I offered myself. "Breathe." I curled my hand around the raised handle, wheeled it close beside me.
SaveSave